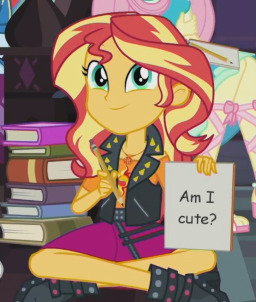 Sunset Shimmer is many things: energetic, enthusiastic, dedicated, determined, resourceful, reliable, you could go on and on. Then there's you, and even though there's nothing wrong with you, per se, you don't really have much to offer other than a heart full of love.
You've been friends with Sunset Shimmer ever since the whole fiasco where she turned into a flying devil thing, but where most of the kids at Canterlot high took some time getting used to the new Sunset, you were there right from the beginning. Now that she's giving friendship a shot, is there any chance she'd give you a shot at something more, or is there someone else you should be worrying about?
---
Takes place between Equestria Girls and Rainbow Rocks.
Commission for Holy.
Chapters (1)