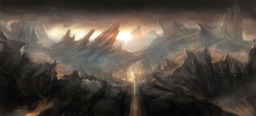 Source
Deep in the earth, a shadow grows in strength. The Gates of Tartarus are breaking. The fires of revenge are burning.
A lone prince, a traitor to his kingdom, is waiting. He is waiting for power, waiting for the dawn of his new day. Yet the moment his victory is all but ensured, when Twilight Sparkle herself lies helpless before him, the prince starts to forget the line: the difference between who he was, and who he is now.
Can a traitor ever be anything more?
Chapters (3)