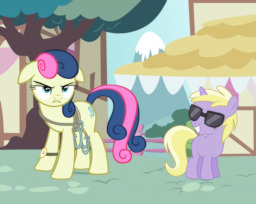 This story is a sequel to Lunaverse: Galaxy Rangers - A Flutter of the Heart.
---
A Galaxy Ranger side story.
Dinky is unhappy with her life. It seems every week somepony or something kidnaps her. It's embarrassing! Worse, everypony is treating her like a little foal that needs protecting and her mom is even more overprotective than usual. Dinky is sick of this and demands a change. She refuses to be known as a filly that constantly needing protecting. But how? Her luck changes when she learns a shocking secret about Bon-Bon that will change her life forever. The mild-mannered candy maker is really a secret agent! Dinky feels she must become one too! It would stop all the kidnappings for sure! Elsewhere in Ponyville, a sinister presence is gathering in Ponyville and only Dinky and her new mentor might be able to stop it.
A Lunaverse spinoff story.
Power Ranger copyright of Haim Saban.
Thank you Talon and Thorn and RainbowDoubleDash for prereading this story.
Cover art:
Dinky vector by LMan225
Bon-Bon vector by cheezedoodle96
Background vector by YourFavoriteSenpai
Chapters (5)