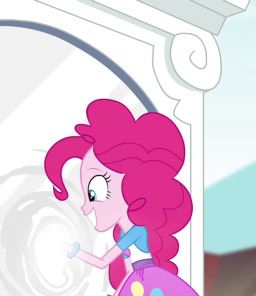 Sunset's in trouble and we need Princess Twilight's help.  We've been calling her with Sunset's magic journal since yesterday but there's been no reply.
Looks like we're going to have to go through the portal and find her ourselves.
After all, it's a magical land of cute, colorful ponies.  This should be easy.
Right?
Sex tag exists for jokes relating to nudity and innuendo.
---
Chapters 1 - 5 pre-read by Spirit Shift and Rocinante
Chapters 6-41 (and most epilogues) pre-read by FanOfMostEverything
---
Complete list of cameos:
Act 1: Twilight "SciTwi" Sparkle and Spike the dog.
Act 2: Cranky Doodle Donkey, Cheerilee, Thunderlane, Applebloom, Big Mac, Grand Pear, Sweetie Bell, Angel, Bon Bon, Lyra, Octavia, Vinyl, Trixie, Flower Trio (Rose, Daisy, Lily Valley), Discord, Treehugger, Wallflower (Sort of), Scootaloo, Gummy, Mr. & Mrs. Cake, Mr. Davinport, Bulk Biceps, Amathyst Star, Cloudchaser, and Dinky Doo.
Act 3: Fancy Pants, Iron Will?, Moondancer, Zephyr Breeze, Sassy Saddles, Shining Armor, Tank, Doughnut Joe, Muila Mild, Snips & Snails, and Maud.
Finale: FSpoiler, ASpoiler, and SSpoiler.
Epilogues: Big spoilers here: Princess Celestia, Princess Luna, Princess Cadance, Starlight Glimmer, Sunburst, Philomena, And a spoilery name drop.
Chapters (58)