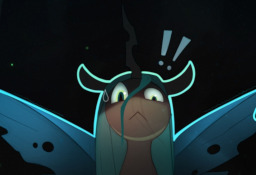 Source
This story is a sequel to Celestia is a Spider and That's pretty much It
---
One day, Celestia had woken up as a spider. A rather curious event, but one the Princess had approached with a surprisingly calm attitude. She'd decided to take no further action than that of informing her subjects of the fact that she'd changed, and to simply continue her life.
In a rather unfortunate turn of events, the Changeling Queen herself, seeing as she was not considered to be one of Equestria's citizens, had not been informed of the occurrence. This led to a rather awkward situation when she met Celestia for the first time after the transformation. Celestia found that encounter to be quite entertaining. Chrysalis didn't.
---
Audio reading by Lotus Moon.
Russian translation by MLPMihail.
Chapters (1)