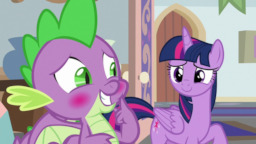 Source
(Idea proposed by yodajax10, written in collaboration with him. Contains slight spoilers for "Nightmare Knights".)
Luna has assembled her task force of former villains to enter a realm where only villains can dwell, for the sake of thwarting Eris' plot.
Twilight decides to organize a party for this task force at the School of Friendship, to which Luna agrees. But during the party, Spike notices Tempest and his wings begin to act funny.
Twilight and Luna both become concerned by this, and Spike starts to wonder if something is wrong with him. But how will everyone react when they learn the true reason behind Spike's behavior? Including the one who's causing these feelings?
Chapters (1)