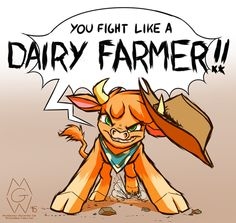 Source
This story is a sequel to Them's Fightin Friends #1 : Bleating Heart
---
Arizona the calf is on her way to save all of Foenum, yet her honest heart leads her to set a trouble making pegasus free.
Now Equestria must be on guard that Cozy Glow is free, bringing along a new friend who can really pack a punch.
---
Them's Fightin Herds/ MLP:FiM Crossover.
Part Two Of The Twenty Issue Arc Of The Them's Fightin Friends Series.
Chapters (1)