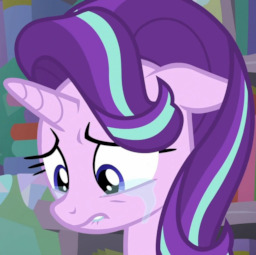 After another failed attempt at a good deed, Starlight Glimmer is at the end of her rope. She feels like she's falling apart, and that she'll never be the pony her friends want her to be. Worse than that, she's beginning to wonder why they're all so nice to her. Are they really her friends or is she actually... a problem that they think needs fixing?
Maybe she'd be better off trying to fix herself. Alone.
Warning: Contains sads, and is meant to take place shortly after Starlight first moves to Ponyville.
Done as a commission for interrobang_, who wanted some good old fashioned emotional angst.
Chapters (1)