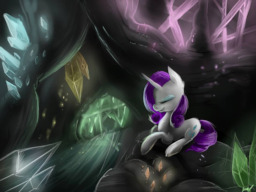 Source
Rarity has an idea; a fantastic idea! If clothing accented with crystals could be made beautiful, clothes made entirely out of crystal would be even more beautiful!
When she began creating them and working on a way to make it happen, she found out the stones were singing to her. Her work beneath Canterlot became not just an exercise in visual beauty, but in sound! As her work continues and near fruition, she brings Sassy with her upon request to see the final product.
Sassy finds it unpleasant. As Rarity continues her work, Sassy begins to question it, and finds out it's not as innocent as she might think.
Chapters (3)