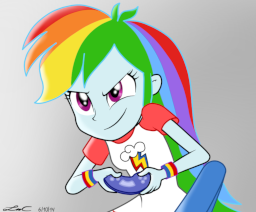 How would you react if one day, you woke up with a floating text box in front of you? Would you scream? Panic? Perhaps lay down in the throes of existential crisis?
Or would you think to yourself 'I can work with this?'
Rainbow Dash now finds herself in position to answer that question.
Kami-sama save us all.
This is the Shinobi Route of my story [New Game +], which I alluded to in the first chapter of the Shinigami route. I am not the first to make a Gamer fanfiction. Nor will I be the last. If something in here look familiar, it's because 1) I'm still new to writing fanfiction and 2) I don't usually play games with the stat system used in these stories. Ja Ne!
Chapters (1)