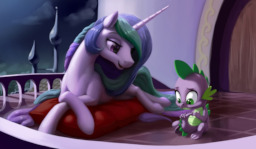 Takes place after Father Knows Beast.
It has been a couple days since Spike's encounter with Sludge, but now he's back in Canterlot due to Royal Business. Celestia asks him what's been going on, and Spike shares his stories with the Princess. But how would she take it when finding out information about this particular dragon?
Cover art by NadnerbD.
Chapters (1)