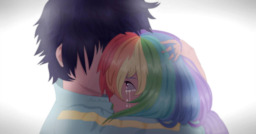 Soarin Skies expects nothing from life nor from those around him, nor from himself. He has fifteen years-old and is impervious to everything. Yet his family expect a lot for him and he has to succeed if he wants to honor them. This is why he joins the prestigious Crystal Prep High School where he meets Rainbow Dash, a gifted girl who thinks everything's so easy that nothing has a taste anymore. A bond is going to weaver between them and gets stronger and stronger, until the night where Rainbow Dash is going to confess...
(Okay, you have to activate your suspension of disbelief here to imagine Dashie as a gifted in, em, mathematics, but once that's working, I hope you're going to be able to enjoy this story

)
TO BE PUBLISHED ON SATURDAYS AND WEDNESDAYS UNLESS NOTIFIED OTHERWISE
I still think this story doesn't quite fit in with the site, but as I haven't anything else to publish and it's been going on for too long, I've decided to keep on publishing it after all. Trigger Warning in some of the chapters.
Chapters (12)