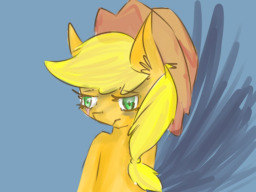 Source
The rumble ended with an ear splitting sound which was like God cracking a whip against the stars in the sky. Rainbow Dash saw the charged clouds that sparked with chained lightning and knew that any attempt to surpass them would prove a deadly experience. If the the lightning didn't strike her down in flight, the electrically charged moisture of the clouds would surely stop her heart.
Having few other options, Dash banked towards the wind and set her determination to fly as long as she was able. There was no turning back, as the skys left no marker to provide her direction, and there was nothing but blackness and rolling waves surrounding her, leaving the wind the only hint of direction. Rainbow Dash flew against the wind.
Flying with the wind would be like turning back, Dash was not ready to be beaten.
Lifeled is a story of closure and suffering through very real trials. Rainbow Dash and Applejack must brave the elements as they continue to complete the tasks they seek. Rainbow Dash to find what had happened to her parents to leave her, and Applejack must journey across the deadly sea in order to save Rainbow from what she believes to be a danger that is well beyond her control.
Chapters (10)