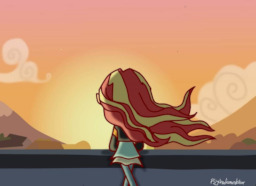 Source
Sunset waited outside the assembly hall, gazing down at her hands. Her mind was going over the spell again and again, remembering what the Princess had said, so long ago.
Behind the doors she could hear, even feel, the rumble of conversations inside the large room. No doubt everyone there knew what they wanted to say and do to her.
---
When Sunset Shimmer realized that the real reason the school had acted as it had was because of her past actions—and her willingness to pretend they had never happened—she decided to put an end to the whole thing.
Anon-a-miss.
The past.
And the hurt she had caused others.
Chapters (1)