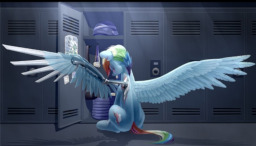 Source
Canonical side story to Penalt's "Twilight Learned" saga.
Dashiel has been living in Princess Twilight's Equestria ever since her self induced exile from her home timeline. In that time, she has made great strides in moving on from her old life and settling down into her new society.
Despite all the progress, there still remains one demon that has plagued her thoughts, a demon she hopes to exorcise by talking to the one pony she couldn't look in the face...
Pinkie Pie.
Chapters (1)