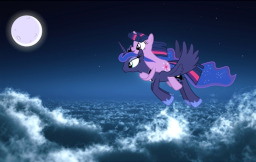 Source
This story takes place before S3 E13 "Magical Mystery Cure".
A rainy evening was threatening to spoil the view of a dazzling annual meteorite storm, but one lucky pony was going to be given an opportunity to see the spectacular event and also come to appreciate somepony special in a new light.
Now a dramatic reading by Flash Photo on YouTube!
Go check it out: Looking Without Seeing
Thanks Flash Photo!
Chapters (1)