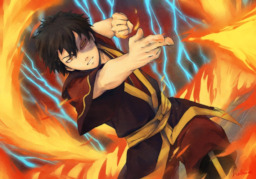 Equus is in turmoil. A tyrant had risen across the Celestial Sea, a diamond dog who goes by Emerald Soran. She has taken over most of the recently formed nation of griffins, the United Griffin Republic, or the UGR. Thorax, king of the changelings, is the only assistance the UGR has, and it isn't nearly enough to stop the massive force that is Emerald's army. Fortunately for them, there's a possible solution to there problem.
Firelord Zuko has woken up in the fields outside of Thorax's hive. He's injured and has no recollection of how he got to where he is. When he is attacked by a monster, he's saved by changeling soldiers and brought back to the hive. Thorax heals his injuries and eventually tells him of the war.
Zuko is faced with a major decision to stay and help the war effort or attempt to look for a way home to get back to his family and friends. He's brought peace to the Four Nations, but now there's a whole new world that needs saving. He's got major responsibilities back home, but there's people that need his help more than the people of Earth. His decision could change his life forever.
I did not expect this to get featured. Wow.
Chapters (2)