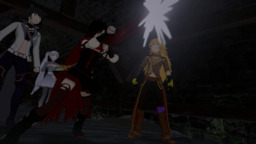 Haven Academy may have been saved from Salem's faction and the White Fang, but for Team RWBY, it was only just the beginning of another journey. When Salem finally shows herself to the huntresses of Beacon, she has a different plan for them in mind.
In that instant, Team RWBY ends up in a place that's not a part of Remnant. Upon first look, it may not seem so...Grimm.
NOTE: I do not own RWBY or My Little Pony: Friendship is Magic. All rights reserved go to Rooster Teeth and Hasbro.
Chapters (4)