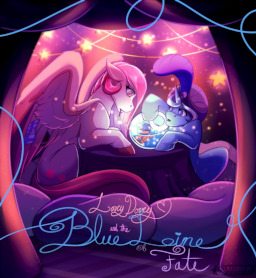 One of the many, many things that Lovey Dovey loves is good a carnival and the Summer Sun Fair in Canterlot is one of the very best. Popcorn, thrill rides, cotton candy, music, funnel cake, laughing foals, ice cream, happy crowds, and more cotton candy!
Fairs are not supposed to make you cry!
---
Winner of the Quill & Blade 2018 Super Summer Jam short story contest. OMG!

SPOILER WARNING: This story happens after the events in Crystal Wishes' Lovey Dovey and the Business Pony and Lovey Dovey and the Uncertain Stallion, and Anzel's Three of Hearts and Three of Diamonds.
Please read them before reading this story because it really will spoil them a little. And they're great stories! Don't spoil them!
Cover image by the talented & skilled PaintedWave

Chapters (1)