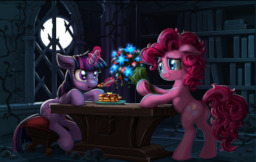 The Elements of Harmony didn't work. Nightmare Moon won. Her beautiful night has been unending for over two years now, and her reign over Equestria is total.
Twilight and Pinkie Pie never gave up, even after everyone else did.
An infinity of praise be to Harwick for the cover art.
Chapters (20)