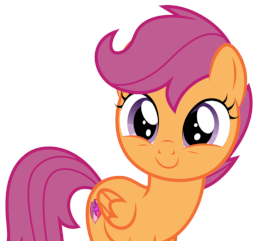 Source
(An indirect followup to "The Washouts" that takes place after it but not immediately after it. Aunt Holiday and Auntie Lofty are from the Ponyville Mysteries series. Dedicated to Matt11. Proofread by Smity91 on Fanfiction.net.)
Despite having a fan club of her own, Scootaloo is still coping with the belief that she'll never be able to fly or be a Wonderbolt. And it's something that still troubles her greatly.
But that's all about to change now that her father, Quick Shot, is coming home. Eager to spend some quality one on one time with his only daughter.
However, while the focus of the father/daughter time is on bonding, the conversation will shift to recent developments. And Quick Shot has a few words he believes his daughter needs to hear. Words of encouragement and not giving up.
Can Quick Shot convince his not so little filly of his point of view? Or is he attempting to do the impossible?
Chapters (1)