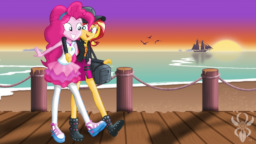 Source
Sunset Shimmer hasn't been the same for the last few months. She still says that she loves Pinkie Pie, but she doesn't show it like she used to.
Desperate to rekindle their passion, Pinkie takes Sunset on vacation to sunny Puerto Caballo. With a week of sun, sand and Caribbean fun ahead of them, Pinkie wants nothing more than to spend quality time with Sunset. But Sunset has other plans.
---
Written for Oroboro's Sunset Shipping Contest: Journeys.
Special thanks to Legofan, ChudoJogurt, GaraTheAuthor and Undome Tinwe for their help and support.
Art by Legendary Spider.
Chapters (1)