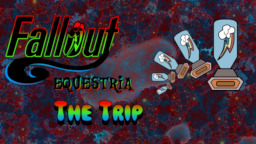 A horrific apocalyptic nightmare, but it was all just a dream...or was it?
Fig is trying it kick a dash habit with the help of his sister Berry. They were planning to toss all his dash into a lake near their grandmother's cottage. It was supposed to be fun little trip.
---
Thank you to KrDragon and Coffee Pone for editing.
---
This story is in the same cannon as my other fics, but has no barring on the plot of any.
---
Made into an audiobook: https://www.youtube.com/watch?v=5H-7Vx0SOUc
Chapters (1)