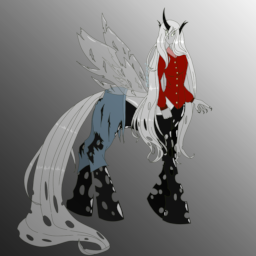 Walking home at night clearly is one of the most stupid decisions you've ever made. That only becomes even more clear when you wake up in an unfamiliar place with strange new limbs.
Haven't you ever been taught about stranger danger? Don't go into dark alleys, don't approach strangers in trench coats, and definitely don't antagonize them for offering you glow-in-the-dark stickers. You never know if they are some strange, world-bending, celestial deity of some sort that gets easily offended at insults to their precious, precious sticker-selling business and decides to punish you by slapping a sticker on you, therefore transporting you to a world filled with fun-loving equines and terrifying monsters with racial problems.
Your stupid decisions aside, at least one good thing that came out from this situation was that you at least look kinda bad-ass. However, it really does make you stick out from the generic brands of ponies in this... "Equestria" land you woke up in. Hopefully your quick (not really) wits and profound knowledge in the art of profanity, sarcasm, and unknowingly ominous statements that you blurt out of your large, now fang-filled mouth. Hopefully you don't fuck anything up.
—
This is a changeling/centaur reader insert. I was kinda planning on making this gender-neutral, but i think it will be a bit more room for hilarity if the reader was female. It doesn't really matter what gender you are, though, there'll be a lot of dirty, really tasteless jokes coming in this fanfic!
Another thing!! I have literally no fucking clue how reader inserts work on this site, but i have seen some of them so i may as well use similar tags!!! Also, this is kinda a... platonic story. I mean, there's already a shit-ton of smutty reader inserts man, may as well make a platonic one.
I apologize if you don't have long hair, or short hair, or hair, but i decided to just get kinda... in the middle by giving ya'll short hair before and long hair after the thing. I dont know if ya'll care or not about this, i really just ramble a lot and i'm Nervous if i do something wrong.
The cover was created by me. The gray areas are colors that are supposed to be filled in by you, but you probably already know that. :)
Chapters (1)