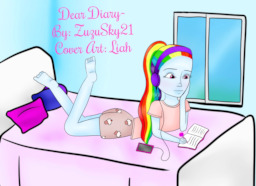 Determined and stongminded, sixteen year-old Rainbow Dash can't wait to start Junior year this semester! With new changes, new students, new friends, a new crush, high school drama, and new challenges along the way, Rainbow Dash receives a magenta, 200 wide ruled journal for the school year, she decides to write down everything that happens in her school year as personal memories.
But sometimes in a girl's personal thoughts, some things you just can't always write down. Especially if the whole school ends up knowing your personal secrets!
Inspired by the new movie on Netflix, "To All The Boys I Loved Before".
PLEASE DON'T STEAL OR COPY ANY OF MY STORIES,,,, I WILL REPORT YOU!!
Chapters (7)