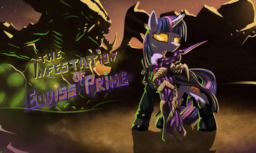 Source
Far, far away from the Equiss system, the queen of blades is readying the launch of her newest weapon. A ship designed to infest an entire planet in secret, readying it for the eventual zerg invasion and softening up even the hardest target, Korhal. Unfortunately for the queen of blades, the untested zerg biotechnology is more difficult to master then she thought and the infestation ship vanishes after launch.
Untold eons later Twilight Sparkle is preparing for her entrance exam for Celestia's school for gifted unicorns only to stop when she sees a star fall into her new treehouse. The young pony sets out in the middle of a storm, intent on seeing this fallen star for herself.
What she finds inside will change not only her destiny but the destiny of all on Equiss prime.
---
Make sure to check out the sister story to this one.
Trigger warning, parasites. Starcraft Crossover!
Updates twice a month!
The story so far!
Chapters (98)