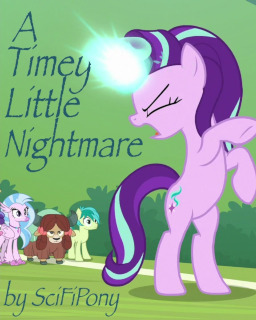 When Starlight gets emotional, bad things happen. She really shouldn't have blasted Discord. Now she has all the time in the world, but paradoxically finds that her time is rapidly running out.
---
Tagged SF for "Timey" elements. The story begins after S8E14—A Matter of Principals and therefore contains spoilers. This is a revision of A Timey Nightmare written for the All the Time in the World event on WriteOff.me. This is the Starlight Glimmer of the Enforcerverse.
---
Tip o'the hat to DoContra and Trick_Question for pre-reading and critiques.
Chapters (1)