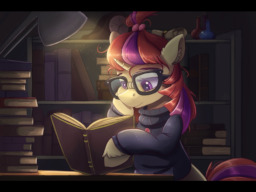 Source
The town of Hollow Shades had been abandoned for a long, long time. With the recent defeat of the Pony of Shadows, Moondancer takes an interest in the place and manages to get Celestia to sponsor a trip there for her to try and acquire what's left of Hollow Shades' history.
Upon arrival, Moondancer thinks she's hit the jackpot early, and begins researching what she can from the scrolls and books left behind. Unfortunately, there's a sound on the wind, and she starts hearing things. Then, she starts seeing things.
Hollow Shades isn't abandoned, just filled with things that aren't ponies.
Chapters (1)