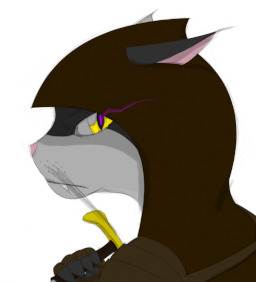 Formsu is a member of the PBB, the greatest warriors against Chaos in the reformed nation of Equestria. The threats of Discord that he face are among the most dangerous the Mad God can throw at him. But when he is thrown back to a time before the Return of Harmonic forces, he must find a way back to his home, and his family.
But how can a lone Purrsian stand against every challenge that comes his way, as forces both Chaotic and Harmonic work to limit his workings in this time?
---
Hello all! This fic is based on a Ponyfinder game that I play with a couple friends of mine. I fell in love with my character, and found myself writing about him in my spare time. I showed it to a couple people, and they urged me to publish it here. This is my first time officially publishing something to a site like this, so please leave constructive criticism.
Also, each original character I have mentioned and will mention in the future have a Pathfinder class. I'm not going to mention them directly every time, but there should be enough hints for readers to figure it out. It isn't necessary but should be a pretty cool thing to look for in the fic.
Cover art by Crazeguy
Huge thanks to the following for prereading this!
The author of smugbug and co, Carapace
Author of The Bug in Camouflaged Armor, vDrake 77
Sir Needs To Write More Fics, River Road
Chapters (3)