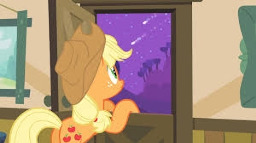 While visiting Cherry Hill Ranch to lend a helping hoof to the lovely Cherry Jubilee, they and the ranch hands are enjoying a lovely night... when memories come back.
Memories of loved ones lost.
00000-----00000
Inspired by the song "I Will Always Think of You" from Bojack Horseman.
To those we've lost.
((Seriously if you don't watch Bojack Horseman, you gotta'. This show is freaking amazing.))
((Also yeah I usually draw my own cover art. I can't think of anything except to write this right now.))
Chapters (1)