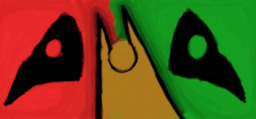 This story is a sequel to Dawn's Break
---
Two months ago, that is when the Elements were reunited, when the Combine invaded. Last is missing, Survivor is presumed dead, and the Union loses hope every day. Only three free cities still stand.
The Doctor, Kendrick, Jack, Twilight Sparkle, Clyde and Clive, Solare of Astora, The Lone Wanderer, Heavy, Reznov, Mason, Wolfram, Ceaser, and Blue Leader. Hero, Villain, Warrior, Civilian, we don't care what they were.
The Combine establish themselves, and hunt us down. The Emperor of them a being of unknowable power, their technology greater than anything Equestria was ready for.
We will make our stand against any odds. We can only hope people will hold themselves together long enough so we do not fall.
Cover art made by user SkyeDragon, and I am very greatful for them to allow me to have something actually good looking for this finale!
Chapters (16)