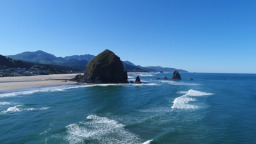 Source
The beautiful sights and sounds of a sunny day in the small town of Gifthorse Beach are to be the backdrop of the wedding of Sunset Shimmer and Rarity. A perfect day, the perfect spot, and course, the perfect dress made by the bride herself.
However, as the old saying is quick to remind, "something always goes wrong at a wedding."
Sunset knows that. Rarity knows that. But it's still going to happen to them all the same.
Written for the Sunset Shipping Contest: Journeys. Image is of Haystack Rock in Cannon Beach, Oregon. Photograph taken by Jonathon Simister.
Chapters (1)