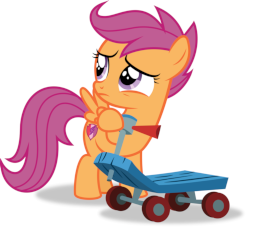 Source
(Written as a birthday present for Matt11. Aunt Holiday and Auntie Lofty are from the "Ponyville Mysteries" series.)
As Scootaloo's honorary big sister, Rainbow Dash has taken on a lot of responsibilities over the years. But nothing can quite prepare her for this situation.
When Scootaloo's friends mention that she's sad and alone in the clubhouse, Rainbow goes to investigate. And when she learns what went wrong, she finds herself thrust into the middle of a delicate situation.
Can Rainbow help her honorary little sister to feel better, and help her to patch things up with Aunt Holiday and Auntie Lofty? Or is the rainbow maned mare out of her depth?
Chapters (1)