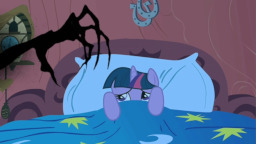 Source
When Twilight is afraid of sleeping alone after a nightmare about something lurking under her bed when she's a filly, she asks her best friend, Pinkie Pie, for a sleepover. Pinkie tells Twilight it was not real... or is it?
---
Editor and Proofreader: sevenofeleven, LoneUnicornWriter (Unavailable?) and TheMysteryMuffin (Added).
---
This took place during the events of season 1.
Also, if you hit 'DISLIKE' on the story, please PM me and tell me why. A downvote doesn't help me improve my writing!
Chapters (7)