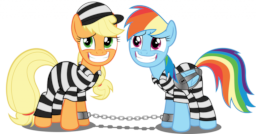 Source
After the events of Non-Compete Clause, Neighsay has Applejack and Rainbow Dash taken to court for their negligence. Soon enough, everything goes topsy-turvy and they're stuck in jail.
They've still got their friendship as they share a cell, and soon after, Twilight and Rarity join in the misery and downright uncouth lack of privacy.
This is a rewrite of a story of mine that was just way too dark.
Be warned: There's still a bit of death involved and not just of background characters.
Note: RD's wings are not bound, but RIP AJ's hat.
Chapters (8)