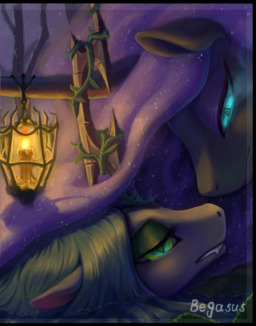 Source
Chrysalis, The Queen of Changelings, has lost her hive and has no purpose. But suddenly finds herself stuck with a fellow villian that also has no purpose. What will they do when they find out a secret past and a royal scandal.
What will the Queen of Changelings do in this new adventure and a group of new friends...
The cover is by BegasusTiuBe, Who is a very underrated and undiscovered artist. I recommend you give them a look.
Sex will be suggestive (innuendos and teasing)
Violence will be shown in the form of abuse (inform me if I need to change my rating)
Added tags: Dark, Sad, Drama
Warning: Characters will be OOC (My representation of the characters)
Chapters (24)