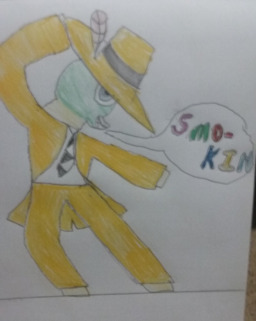 Loki, the God of Mischief, power was imprison inside a mask and was hidden away 100,000 years ago. Now in today world of Equestria. Many ponies have gone about their days. Six mares have save Equestria time and time again. Twilight Sparkle, student of Princess Celestia had been living in Ponyville for almost a year and is the Element of Magic. Applejack, live on a farm call Sweet Apples Arcs and is the Element of Honesty. Rainbow Dash is the weather pony of the area and is very cool, though sometimes she gets carry away, and is the Element of Loyalty. Rarity run a dress business and can be bit of the a drama queen, she is the Element of Generosity. Pinkie Pie is one party pony that you would love to hang out with and she is the Element of Laughter. Fluttershy, she is very shy around new ponies and is very kind. She is the Element of Kindness.
Lately Fluttershy has been very tired of being shy and wishes she was more like her friends. After getting throw out of a club, she walk home and finds a a very strange mask. If you think Pinkie was odd, wait until Fluttershy put on the Mask. She is not the mare she seems.
PS:Would like a new Title. Might turn this into it own series that don't follow this story.
Cover by luckyboys121
Chapters (4)