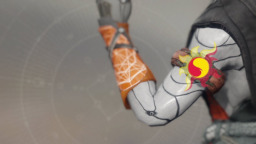 Source
They are calling it the Age of Triumph. Multiple threats to the Last City have been dispatched. The Traveler is beginning to heal. The children are no longer frightened.
But for one warlock, her inability to master the self-resurrection technique Fireborn has drawn the ire of the Warlock Vanguard, Ikora Rey. Faced with an ultimatum, she dives deeper into herself in search of an identity she can truly call her own.
What she finds, and the friends she finds with it, could permanently change the balance between Light and the Darkness.
---
Takes place at the end of Destiny 1 (Rise of Iron) and before Destiny 2. Familiarity with the setting is recommended. "Violence" and "Death" tags are in line with Destiny's setting. And the profanity tag is because Fluttershy insisted on using one particular word.
Chapters (5)