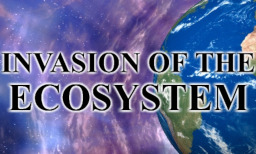 Ahh, the magical land of Equestria. A place of peace and tranquility, ruled by Princess Celestia from the shining beacon of Canterlot. The ponies, of course, are the namesake of this place, and the primary sentient species of this place. They are a peaceful people who do stuff like have parties and sing all the time and a lot of other stuff, but something... otherworldly is coming, something from OUR world.
No, not humans. What if plants and animals from our world, extinct and alive alike, get sucked into the magical world of Equestria, so what happens then, you may ask.
Well, we know that an introduced species can cause an imbalance to the ecosystem. But, here's the catcher. While a normal ecosystem is self-sufficient and can rebuild itself naturally, Equestria is entirely dependent on the primary inhabitants to fix it themselves.
Unfortunately for them, Mother Nature's cooking their meals tonight.
---
So yeah, this is a reboot to a story called "Invasion of the Ecosystem". Dead story, dead author, dead everything. Kinda sad to see it go, it had a lot of potential in it. I was planning on making this story a collaboration effort with the help of this guy right here, but he/she has been off since May 30th. So, for the forseeable future, this is a one-man effort.
The story starts at the end of the episode "School Daze (Part Two)", and I'm planning on depicting the invading flora and fauna as accurately and precise as I can, but with some flair for the extinct club.
Anywho, enjoy.
Chapters (8)