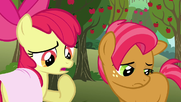 Source
This story is a sequel to The Apple Jamboree
---
At the end of the Apple Jamboree, Babs Seed ran off into the night to join John Songsmith, to become his apprentice and perhaps one day a true bard.

She didn't tell anyone she was leaving.

He didn't think to ask her if they knew.
After a few hours, she realized her mistake. And when she got back, Applejack was waiting...
(Chronology note: this story takes place during season six, after that years' Nightmare Night. If you have not already read The Apple Jamboree, please read it first. )
Chapters (1)