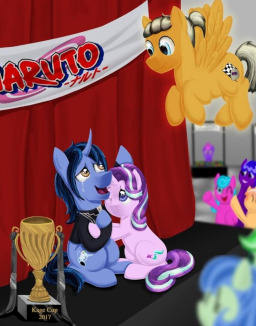 Source
Dynamo Pad, overwrought with the recent death of his father, enters a gaming tournament at a convention. He doesn't want to win for his own glory, or to make his friend Starlight proud. He does it in memory of his father. In the hopes of helping himself heal from what had happened, he brings Starlight along.
A touching one-shot that had me in tears at times while writing.
This was a commission for the lovely Kyubiki_Tenchu. I'm honoured he chose me to write this memorial to his own father. It was a lovely experience.
Art by ambergerr on Deviantart.
Chapters (1)