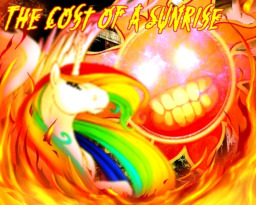 This story is a sequel to Bits of Ash
---
Join Twilight and Thorax as they set hoof on Discord's Magic School Bus for a trip into the post apocalyptic future of Everglow.
They say the road to ruin is paved in the best of intentions, and no where is this more true than in the Ashen Waste of Everglow. Slapstick LeFaux, a unicorn colt blessed by the goddess of the doppelgangers is the sole survivor when his circus caravan is ambushed by raiders. Sunrise Flare is a young mare who's life was upended when a doomsday cult of crazed pony fanatics remade her in their twisted image of an "ideal" monarch. In a world that hasn't seen the sun in over two hundred years, a careless wish can invite disaster. And nothing costs as much as a sun rise.
This story is based in the world of David Silver's Ponyfinder RPG books. Specifically the upcoming campaign setting From the Ashes, available now for pre-order!
Also this is a sequel/prequel to my previous story Bits of Ash. Although, being a prequel, although reading that is in no way necessary to enjoy this story. Has many funs!

Chapters (14)