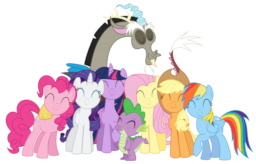 Source
After Learning that Fluttershy hasn't been sleeping well, Discord takes it up with Luna.
When he discovers why her nightmares are so hard for Luna to dispel, he decides to fight them himself.
However, an enchantment he discovered on a recent travel is slowly taking hold of him, taking away his magic. And now that its loose, Equestria faces the consequences of an ancient magical feud.
To properly get rid of the spell, and find a cure for Fluttershy's nightmares, the Main 6 and Discord are in for an adventure.
Meanwhile, an old enemy is pulling strings behind the scenes, and things could not have fallen better in their favor.
There's no shipping. Just a bunch of good friends.
I'm including my own illustrations for fun (Warning in advance: They might make you cringe. I'm still very new to drawing ponies. Discord is especially presenting a challenge!).
(P.S. The 'My Little Pony' characters belong to Hasbro. I own nothing.)
Constructive criticism is welcome.
Enjoy!
Chapters (4)