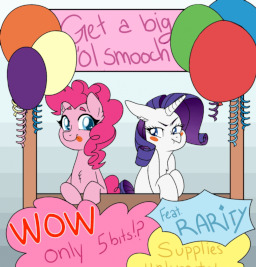 For years, Pinkie Pie has helped the Cakes raise money for a charity that benefits orphaned foals; and this year, Pinkie is running a kissing booth! Rarity joins her old friend to help run it, but her notoriously fragile self-perception is grievously injured in the process when nopony seems to want to kiss her.
Why in Equestria won't anypony kiss Rarity!? Something is going on...
Sparity shipping story with gratuitous Raripie friendshipping on the side.
Cover art by Probablydnon.
EDIT: Made non-mature featured list on 7/10/18! Hooray!
Chapters (1)