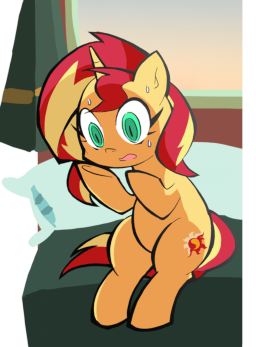 Source
Sunset Shimmer was getting ready for bed like she did every night and was casually wishing that she wanted to be a pony again. It was a thought that crossed her mind from time to time so she hadn't really thought much about it but the next day she discovers that that quick wish had come true. Now she and her friends have to figure out what happened and how to fix it. Meanwhile Sunset is becoming more and more comfortable in her pony body and she starts to wonder should they fix this?
The image was create by rvceric go check them out on DeviantArt
Credit to the idea of this story goes to friend Tyler as he was the one who started talking about the whole Sunset turning back into a pony thing in a serious light while I was making jokes about it. Thanks for helping me write this buddy and I hope you like it.
Chapters (1)