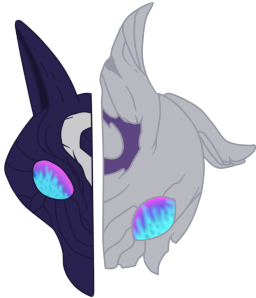 Source
A plagued stallion, A worried Princess, A team with to many questions, A dark force.
After an anomaly, all is not well with Equestria. Many do not see it, but a rare few see the true horrors of the invader. Time may be short, and those that can act, act quickly.
In a new land, a hunter comes, and those who are hunted have a choice, to stand firm, or to flee!
If you want a brief bit of exposition, then read this: https://na.leagueoflegends.com/en/page/good-death
I will not be including any other character from the League universe in this story, only Kindred.
Cover art from https://jinx-the-psycho.deviantart.com/art/Kindred-Masks-Colored-567144911
Chapters (17)