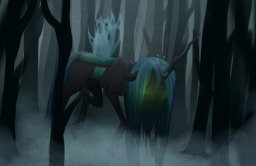 Source
Queen Chrysalis failed to take over Equestria. This is what could have happened to the changelings after they were blasted away after getting hit from the blast. What could a full blast of love do a changeling? Where did they end up? Did any survive the fall?
This is the Darkest Timeline, but not for the ponies.
Contains Death, Light gore, Violence and Genocide.
Source image for cover linked, please don't hurt me.
Chapters (1)