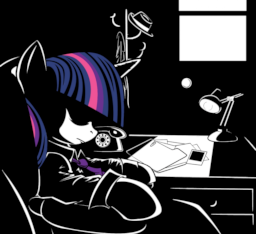 Source
Pronoia: believing the world is conspiring in your favor
Paranoia: believing the world is conspiring against you
As a former member of Canterlot's elite law enforcement team, Twilight Sparkle is used to a certain level of responsibility. However, her years of experience are rendered useless by her sudden and unwanted transfer to the sleepy little town of Ponyville. With no other option, she chooses to give into the monotony.
But this all changes when a grisly murder shocks the entire town. As the only member of Ponyville's police force equipped to deal with this sort of thing, Twilight welcomes her first real case in over two years. But she quickly realizes that there is more to this murder than meets the eye. It seems Twilight's past has followed her to Ponyville.
With the help of her loyal assistant Spike, a series of strange clues, and some cryptic notes, Twilight tries to figure out the identity of the pony or ponies who have wrapped her up in their bizarre game.
Chapters (17)