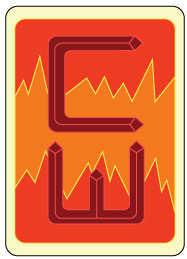 The story follows Jinn Hubert, a kid who had a special gift within him, and the government wishes to abuse that gift "for the good of their country". Luckily, the parents of Jinn caught on to their plans and escaped to Canterlot City to start over with Jinn making some new friends. Eventually, he was pulled into a citywide Card Wars card game with two sides warring with each other for complete control over all; The Crusading Wondercolts and The Servants of the Tiara, they fought for a relic that could ensure that special control: The Goddess Card.
But when magic that has leaked out of the portal to Equestria enters the fray, everything changes; the creatures, spells, landscapes, everything in Card Wars becomes real, not only that, it also earns the attention of the government, the same one that was hunting Jinn. The fate of Canterlot City and maybe even the world rests solely on the shoulders of Jinn and his special gift. Let us see where Jinn's road to greatness takes him.
---
A crossover of Equestria Girls and Adventure Time's Card Wars card game and a parody of South Park: The Stick of Truth for Xbox 360.
The story and gameplay is based off of the Card Wars Kingdom phone app.
Chapters (3)