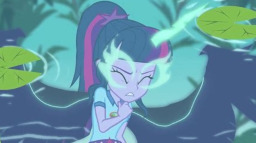 Source
"You don't belong here Twilight. You never have, and you never will..."
Twilight Sparkle has always been an outcast. Everywhere she went, people managed to make her feel unwanted in one way or another. She can't say she got used to it, because she hasn't. But she can say that she sometimes knows how to avoid it, and that means being away from everyone. But when the Friendship Games draw near, Twilight is forced into the spotlight, which is far from good. Soon the pressure rises, and the students finally get what they've been waiting for.
And it has Midnight written all over it.
Chapters (3)